Below are some links that you may find of interest. Please note that I cannot in any way be held responsible for the content of these websites:
General Conservation / Photography
ARKive: website with a treasury of high quality wildlife photographs from around the world.
Wildlife Photographer of the Year competition, organised in conjunction with the Natural History Museum London, can be accessed by clicking here.
Plants
Plantlife is a charity working to protect Britain's wild flowers and plants, fungi and lichens in the habitats in which they are found. They also have a network of international partners. Click here to find out more.
Botanical Society of the British Isles (BSBI) has an interesting website, with useful links to various European countries here.
For anybody seriously interested in plant taxonomy, check out the Delta website here.
Lichens
The British Lichen Society (BLS), which has an international following, can be accessed by clicking here.
Birds
The website of Ornithological Society of the Middle East (OSME) contains information about the Society, its aims, objectives and achievements.
Mike Jennings is project co-ordinator of the Atlas of the Breeding Birds of Arabia (ABBA).
Some Arabian countries, such as Kuwait, Oman and the UAE have excellent websites dealing with their avifauna.
For Kuwait, see the website of Abdelrahman Al-Sirhan, which also contains information on other creatures and plant images. In addition, he has a list of useful links.
For sightings and information on the birds of Oman, see the website of the Eriksens.
The premier UAE birding site (created and run by Tommy Pedersen) can be accessed by clicking here.
Reptiles
The J. Craig Venter Institute has a retiles database with information of selected species from around the world.
General photography
As a regular visitor to his website, I owe Ken Rockwell a plug at least!
Also try the following link to the Digital Photography Resource Guide here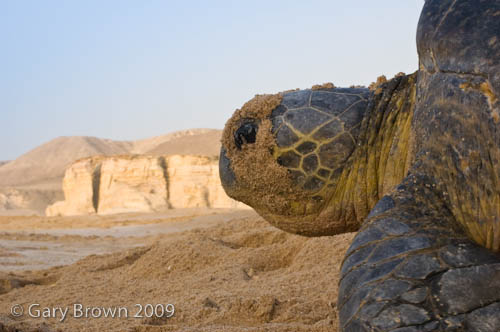 Green Turtle, Oman. See Image 71325
Back to Top