08. November 2019
I have just created and self-published a large format book of some of my own favourite images taken over the past years. This book is available from Blurb. Click here to see the preview.
Quite a while ago, I make a photographic book on Oman, also published by Blurb. Click here!
22. October 2019
Unfortuantely, my website has been down for a considerable period of time. This was due to some service work by my hosting company, and they changed some vital settings. Alas, it has taken countless emails to find out the solution to my problem, which in the end took just a few seconds to sort out.
Anyway, now it is up and running again, and I hope to add some more images very shortly. I have spent quite a bit of time in the UAE again this year.
01. January 2019
2018 came and went so quickly without my getting round to updating this website. In fact I was away for a large part of the year, mainly in KSA and the UAE. My New Year's resolution is to spend some time updating it, assuming I am home every now and again to do so. I have started 2019 by adding some more birds, many of them older pictures, but more images of my trips from the past two years (mainly Dubai and KSA) should follow shortly.....
30. September 2017
After spending a considerable part of the year working on a major conservation project in Dubai, I have finally got round to updating my website and adding more images. These are all of reptiles, mainly from Dubai. After 12 years of searching, I finally hit lucky, and found during nocturnal fieldwork in Dubai not just one Persian Wonder Gecko, but about 12 (belong to two healthy populations). I also have numerous other images to add, from the UAE and Germany.
06. January 2017
Just added a few images of plants from bogs and marshes in the Eifel Mountains, taken during field work for a conservation project in 2016.
05. January 2017
Welcome 2017. To my horror, I note that I have not updated this website for a very long time. This is mainly because I was so busy in 2016 with assignments here in Germany, but also in Arabia (Dubai, Kuwait). Before I get stuck into work for 2017 (a major project in the UAE is about to start), I hope to carry out various updates and add more photos.

One of the more interesting lichen finds for me in 2016 was the re-discovery of Normandina pulchella near Bonn whilst out walking last February. More on this later.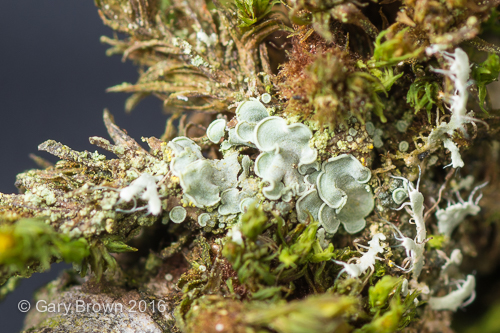 A brand new book (2 volumes) authored by a number of leading local botanists "Flora of the Trier Region" (Germany), which also includes part of the Eifel mountains, where I have worked extensively over the past decades, is about to be launched. I am pleased to learn that one of my photos of Narthecium ossifragum, a rare species in the region, adorns the front cover of Volume 1. See image 52545, which I took in 2011. We found a new location for the species at the time in boggy woodland.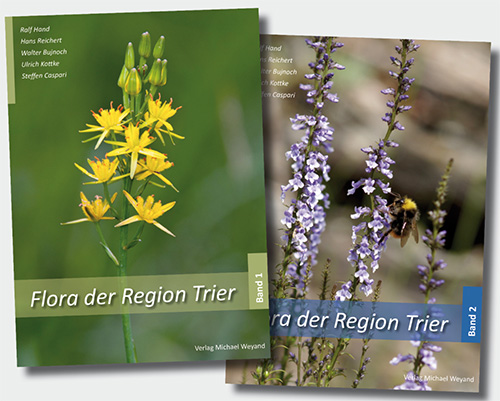 17. February 2016
We are now based back in Bonn, Germany. More updates and images to follow shortly.
16. May 2015
12 more bird species have been added. All images were taken in Kuwait. More to come soon. The Ferruginous duck chicks featured below have done very well, and in the meantime have assumed adult (or sub-adult) plumage. There has been at least one other brood at Jahra Pools Reserve in recent weeks, so the season has been highly successful for this endangered species.
19. April 2015
Despite the virtual lack of effective rainfall in the Kuwait desert this season, and therefore a general lack of desert annuals, the winter has been busy in one way or another. One of the highlights was arriving at Jahra Pools Reserve to find that these Ferruginous duck chicks had just hatched (12/03/2015), representing the third breeding record of this endangered species for Kuwait. I counted a total of 10 chicks at the time, and one month later, it seems that all 10 chicks of this brood had survived, despite the presence of various predators, including several Marsh harriers.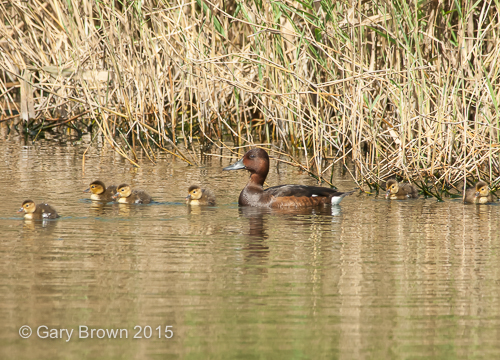 Ferruginous duck with newly hatched chicks. Jahra Pools Reserve, Kuwait 12.03.2015
On the SQU page, I have at long last added the plant family Euphorbiaceae, with a number of representatives occurring in Oman, including several endemics.
27. November 2014
Have just updated the lists of "Birds", European Plants and "Arabian Plants", carrying out a few corrections. All lists should now be up to date. This was a major undertaking due to the extremely slow speed of Dreamwaever when editing larger tables. Now I can start thinking about adding new images.
26. November 2014
Have just updated the lists of "Other creatures" and "Reptiles", and got rid of a few mistakes. List of Birds and Plants will be updated and corrected over the next few days.
21. November 2014
In the meantime, my photographic book of Oman has appeared in Blurb (hard cover and softcover versions). A preview of the whole book can be seen here:
http://www.blurb.co.uk/b/5601277-oman-a-photographic-tribute?class=book-title
I still haven't updated the list of species, though have made one correction, by replacing the image of Brachypodium distachyon. Now that the Oman book is out of the way, I hope to spend more time on this website.
14. July 2014
I've added another 6 plant species to the Arabian Plants section. Most of the images were taken during the spring of 2014 in Kuwait. I should be adding a few more species from Kuwait soon, and also updating the list of species, which has been neglected of late.
10. July 2014
I've finally got round to adding another 6 plant species to the Arabian Plants section. All images were taken during the extremely wet spring of 2014 in Kuwait. One of the rarer species I photographed was Scorzonera tortuosissima, which is only found in the far west of Kuwait towards the Iraqi / Saudi border, and I only saw a single individual. More images of various species should be following in the near future.
17. June 2014
Alas, although I have lots of new images to add from the past few months, for some reason, I haven't got round to doing it. However, I have finished my first photobook project for Blurb entitled "The Eifel - A Wild Cultural Landscape".
The "About this book" section reads:
This book is a photographic homage to the diverse cultural landscape and nature of the Eifel region of Germany. This region, with its intricate topography, can be remote and daunting in places, gentle and tranquil in others. Sparsely populated, but with a long history of human influence, witnessed most prominently by the medieval castles dotted throughout the landscape, the Eifel is an area of high biodiversity and exceptional conservation value. Stunning landscapes therefore meet dramatic architectural heritage.
See http://www.blurb.co.uk/b/5391326-the-eifel-a-wild-cultural-landscape (UK site) or http://www.blurb.de/b/5391326-the-eifel-a-wild-cultural-landscape (German site) for more details.
04. February 2014
I've now added images of another 12 plant species to the Arabian Plants collection. All images were recently taken from several areas on the east coast in the southern half of Kuwait. The whole area is severely threatened due to large-scale coastal development, the widespread dumping of construction rubble and recreational activities. Remaining remnants of vegetation are often seriously overgrazed. However, it is remarkable how some plant species, generally regarded as rare, can suddenly re-appear in the most surprising of places after good rain (as we are having this season). For instance, I found a very large population of Salvia lanigera in a remaining patch (less than 1 ha) of vegetation in the middle of a massive construction site. After contacting a local farm specialising in the production of native plants, they took immediate action and collected a large number of Salvia individuals from the site, before the bulldozers move in. There is some encouraging news in that I am working with several institutions in Kuwait to get some small areas protected, and it seems that at least one area (Umm Al-Haiman, dominated by near-coastal Panicum turgidum grassland) may enjoy some degree of protection in the not too distant future.
16. December 2013
Given that Kuwait is to get a huge new protected area along Kuwait Bay ("East Jahra"), which will be situated very close to the Jahra Pools Reserve, a major birding site, I have just updated my "Jahra Pools" article with a few details of the new area, and have also added some more bird photos to that page. See here for more details.
07. October 2013
No news for 6 months now for the simple reason is that after spending 3.5 years in Oman, we have moved back to Kuwait, where I am working for the government (Kuwait National Focal Point) to help get the desert restoration projects moving forwards. We enjoyed Oman a lot, and in fact I have just returned from a 10-day trip to there, including a week in Salalah collecting lichens. Now that my computer has just arrived from Oman, I will soon be posting some new images.
07. April 2013
Just added more creatures from Kuwait and Oman to the section "Other Creatures".
04. April 2013
Today, I've added 6 more reptile species, including an image of Acanthocercus adramitana, an endemic to southern Arabia that has rarely been photographed in the wild, judging by the few images available on the internet. Peter Cowan spotted this individual whilst we were driving down a track in a loosely wooded area on Jebel Qamar (Dhofar, southern Oman). The reptile was initially sitting at a temporary pool by the track, but having seen us, it retreated to a nearby rock with the sun facing us. I managed to gently stop the car, grab hold of my camera (with a 300 mm f2.8 attached) and took these less than ideal shots. See here.
03. April 2013
I have finally got round to updating this website again, and apart from adding several new bird and plant species (the latter from Arabia), I have also included several new images of species already on the site, including Cakile arabica, Gagea reticulata and Horwoodia dicksoniae (Arabian Plants section), and in the Birds section, Greater Flamingo and House Crow. I have also added an image of a flower of the elusive Rhytidocaulon fulleri from Dhofar (see here), which I photographed in the studio, using Helicon Focus to achieve a large depth of field.
Of the new images, I was recently on Masirah Island (off the east coast of Oman) on a successful lichen-hunting trip and came across the endemic spurge Euphorbia masirahensis, a species I had never heard of at the time. As for the lichens, here an image of Simonyella variegata, known only from this island and Socotra, off the coast of Somalia.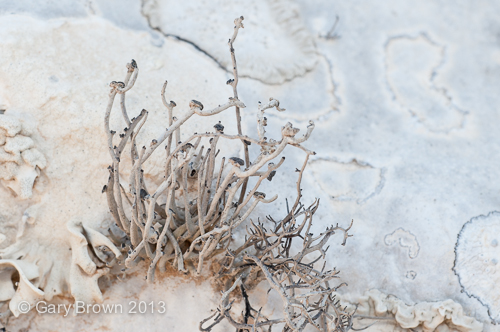 Simonyella variegata, Masirah Island, on calcareous rock. 07.03.2013
06. January 2013
Have, at long last, added a few new images, this time of birds. See here for details. Also added new images of Imperial Eagle and Isabelline Shrike (Daurian / Turkestan Shrike).
02. January 2013
Happy New Year. I was planning to finally do some updates to this site yesterday, but "technical problems" put an end to that. Luckily, my internet service provider (Easily.co.uk) responded very quickly to my email plea for help, and sorted the broken links issue out overnight. One of the reasons for the delay in updating this site was the fact that I bought a completely new computer system (MacPro), which came with the new Mountain Lion OS. This OS has caused me – directly and indirectly – various headaches. Anyway, I hope to now get some more images uploaded soon. I was looking through my extensive collection of 35 mm slides the other month, and found a number of interesting images for this site. Unfortunately, Nikon have decided not to update their scanner software for the more recent versions of Mac OS, which, given the fact that I have an expensive Nikon scanner, is extremely poor customer service. If I didn't still have access to my old, but very good iMac (donated to my wife), the only other option would be to buy expensive (but very good) third party software if I want to continue using my scanner.
23. August 2012
I've just returned from a 2.5 month trip to Europe. In the meantime, our Vegetation Ecology of Socotra book has been published, and both Bruno and I are very pleased with the result and some of the very positive comments we have already received.
I took a plant of Rhytidocaulon fulleri to Germany with me (collected in Dhofar earlier in the year), and to my surprise, it started flowering profusely just as I was about to return to Muscat. I left the plant with Bruno, but was able to take a decent photo, which I will soon include here. For the moment, I've added another six plant species which I photographed in Germany, including the very rare Cicendia filiformis. Ornithologically, the highlight was seeing and photographing Melodious warbler just south of Bonn. Thanks to Clemens Hackenberg (Feusdorf) for revealing the site to me!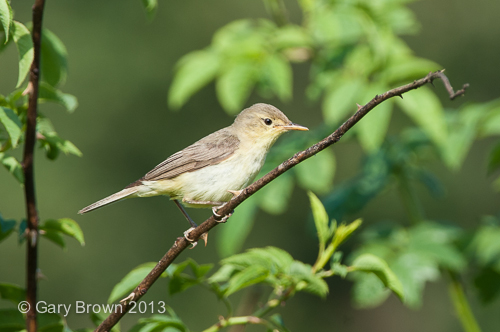 Melodious warbler, Jünkerath, Eifel mountains, Germany. 24/07/2012
10. April 2012
After 2 months, I have finally got round to updating my website and adding a few more images. The reason for the delay was because I as more than busy correcting the proofs for our upcoming Vegetation Ecology of Socotra book.
Some of the new images were taken on a trip to Dhofar in southern Oman in February, and include the rare endemics Rhytidocaulon fulleri and Dhofaria macleishii. The latter (assuming I have got the right species) has white male flowers, rather than the cream-coloured ones as shown in Miller and Morris's "Plant of Dhofar". Assuming I haven't confused the species, the reason for this could be that the flowers I photographed are very fresh – they soon turn brownish when a little older.
02. February 2012
I should get round to adding more images to this site soon. Although I have hardly been out photographing recently, I've found quite a few old gems in my collection. In the meantime, our book, "Vegetation Ecology of Socotra" (together with Bruno Mies, and published by Springer), is due out at the end of May 2012. We haven't seen the proofs yet, but the book should contain about 250 images of plants from this remarkable island, half of which will be in colour. More details can be found here.
01. January 2012
Happy New Year! I've used the afternoon to add another 18 new species to the section on Arabian plants, all from Oman, including the endemic Herniaria maskatensis.
29. December 2011
To round off the year, I've added 12 new architectural images, mainly from Oman, including of the new stunning Royal Opera House in Muscat.
04. December 2011
Added images of 12 bird species taken in Germany, Kuwait and Oman, including Arabian Wheatear (Oman) and Pygmy Cormorant (Kuwait), and have also updated the bird list. All new species are shown as thumbnails on pages 13 and 14.
24. November 2011
Just added a whole series of images of European plants, all taken in Germany over the past 6 months, and some recent images from Oman, including the endemics Geranium mascatense and Teucrium mascatense, photographed on Jebel Akhdar. I have also updated the respective plant lists.
22. November 2011
Finally got round to adding a few more images (more to follow soon). These are all of plants taken in various parts of Oman, and include:
Acacia senegal, Calotropis procera, Dracaena serrulata, Euphorbia riebeckii, Maerua crassifolia and Olea europaea.
01. November 2011
It is with great sadness to learn that Simon Aspinall, good friend, colleague and excellent ornithologist / ecologist passed away yesterday after a long and serious illness.
Simon and I met when I first moved to Abu Dhabi in 2002. He was a great help and source of inspiration during my 3-year stay in the UAE. We kept in contact since that time, working together on various consultancy assignments. Some of this work was done on a voluntary basis for various organisations, including UNESCO. For instance, the picture below was taken on Jebel Akhdar in Oman in 2005, when we were on a field trip as part of a small team helping UNESCO to select a biosphere reserve in the Sultanate. Simon was subsequently at the forefront of the necessary documentation work to get Jebel Samhan designated. Although Simon will be probably best remembered for his ornithological work, including as co-author of the second edition of "Birds of the Middle East" (Richard Porter and Simon Aspinall), he has made an outstanding contribution to conservation efforts throughout the Middle East in particular.
He will be sorely missed by many people.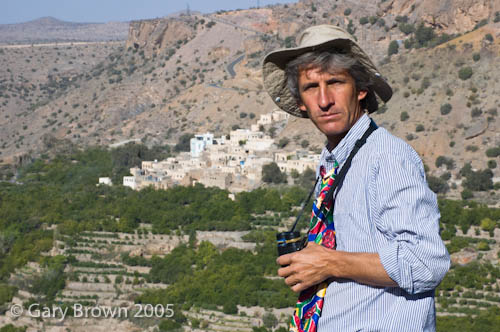 Simon Aspinall on Jebel Akhdar, Oman, as part of the UNESCO biosphere reserve selection team. April 2005.
28. October 2011
I had been hoping to update this website more regularly during the year, but due to a number of reasons, largely beyond my control, this has not been possible. However, as from about the end of November, I should be adding a whole lot of new images from various trips in Oman and Europe.
26. March 2011
So much for New New Year's resolutions. Unfortunately, I haven't got round to updating this site at all since mid-January, so I will attach some comments and pictures in the following.
Spent the weekend at the Crowne Plaza in Salalah, Oman, which was very relaxing. A pair of Shining Sunbirds have built their nest on a lamp chain in the beachside restaurant, just a few yards away from the small stage where the two-man band plays in the evenings. The female doesn't mid the heavy traffic of people passing vry close by.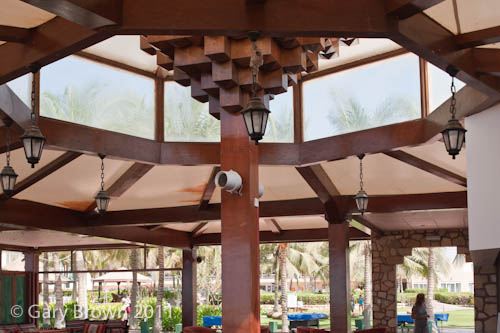 Beach restaurant at the Crowne Plaza, Salalah, with Shining Sunbird nest above the central lamp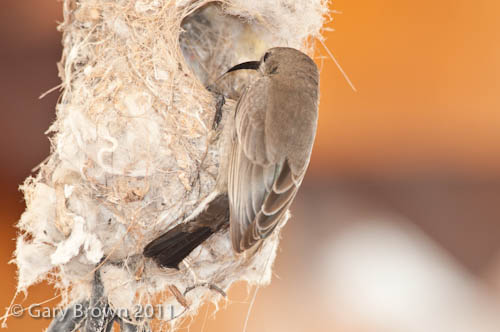 Shining Sunbird carrying out some home improvements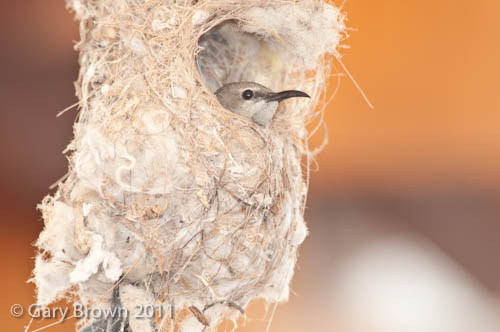 Shining Sunbird on nest
One of many reasons to visit Salalah at this time of the year, when the woodlands on the Dhofar escarpment are leafless, was to gauge the extent of the massive overgrazing problem that has been afflicting the region for decades. Grazing in Wadi Darbat, one of the main tourist attractions, is so severe that it makes a mockery of the protected area status. The wadi floor is dominated by weedy species, and the following picture gives an idea of the extent of grazing in the woodland itself: note the tracks around virtually every single tree on the more accessible slopes.

Massively overgrazed woodland slope in Wadi Darbat, Dhofar, Oman
At Sultan Qaboos University, a pair of Pale Crag Martins (= African Rock Martins) have built their nest on the ceiling of one of the shaded walkways, allowing fairly easy observation of their nesting activity. Three young seem to have made it through, as shown in the photograph below. These images were taken on 22. March 2011. The young, which appear to be on the verge of flying, were still in the nest on the 26. March in the early morning, but by midday, the nest was empty. Will have to check up soon whether they return to the nest at night.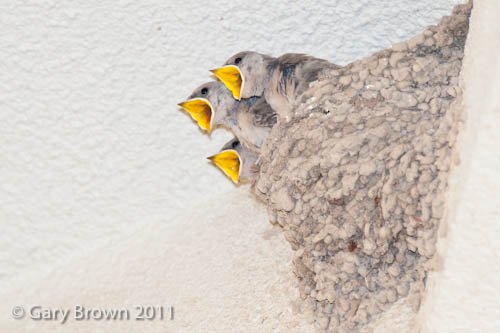 Pale Crag Martin chicks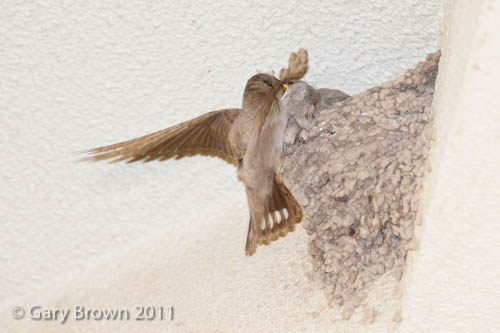 Pale Crag Martin feeding a dragonfly to a chick
15. January 2011
My New Year's resolution was to update this site more often. Now that I have finally been re-united with my main computer (my iMac) after it spent more than one year in storage, I hope to be able to do this as from now on. Working on a small MacBook wasn't easy.
I've started off this year by added some six new bird images - all taken here in Oman. They probably won't appear in the species list just yet, as I need to remember how I did this on my main computer over a year ago, but things should be sorted out in the near future.
08. August 2010
We are currently stranded in the Eifel mountains of Germany (yet again this year) after I managed to break my ankle in a freak accident in a moor (Rohrvenn) whilst out walking. We were originally here for a two week break from Oman, but that has now had to be extended.
Before breaking my ankle, we stumbled across a pair of Little-ringed plovers that were breeding in an area covered with lava adjacent to a car park in a rural industrial estate (Wiesbaum 50.351N, 6.667E). The site was already known to several local birdwatchers. Apparently, this was the second brood, and we saw two chicks, about a day old. The interesting fact about this site is that it is far away from any water, and also quite a distance from the next known breeding site of this species.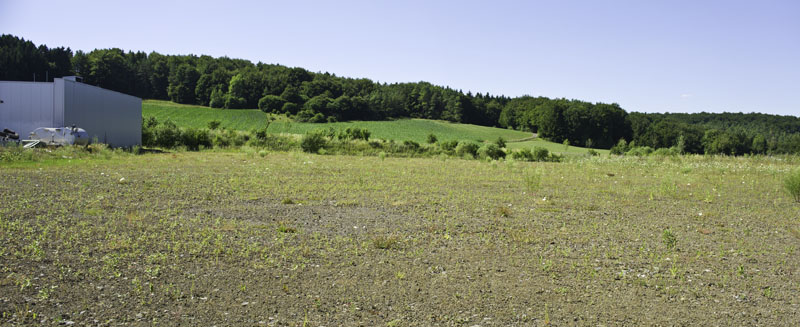 Breeding site of Little-ringed plover at Wiesbaum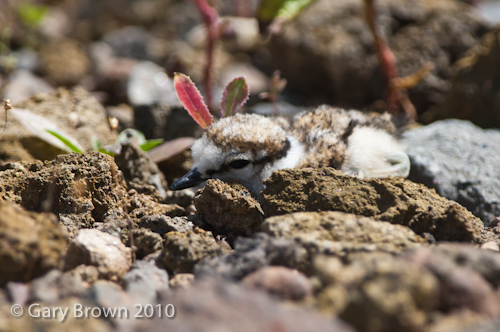 Little-ringed plover chick very well camouflaged on lava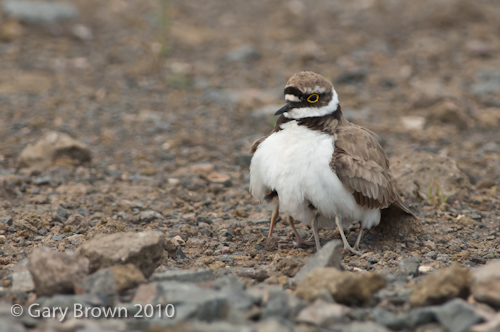 Little-ringed plover with two chicks at Wiesbaum
19. May 2010
Added a third page of landscape images, some from winter in Germany, a few recent ones from Oman.
28. April 2010
Added images for Brassicaceae and Chenopodiaceae, as well as additional ones for Fabaceae and Asteraceae to my Angiosperm Biology course page (see 23. April 2010).
27. April 2010
Added images of Poaceae and Cuscuta to my Angiosperm Biology course page (see 23. April 2010).
26. April 2010
Added images of Fabaceae to my Angiosperm Biology course page (see 23. April 2010).
23. April 2010
For the benefit of the students of my Angiosperm Biology course at Sultan Qaboos University, I have started adding images of the plant families we are dealing with.
19. April 2010
Back on air again. Regarding my comments about spending "a few weeks in Europe" (see 19. September 2009), this turned out to be a few months. Things in Oman can move very slowly, as we have now experienced. After a brief trip to the UK, we enjoyed a forced several-month holiday in the Eifel Mountains, Germany. The "call" to Oman came at the end of January, and we were lucky to be able to leave, as there was a very heavy snowfall that cut off many villages near we were living.
Life has been very busy for me since arriving at Sultan Qaboos University. We have managed a few trips out to the desert and the mountains, but have enjoyed many walks along the local beaches. We also had one snorkelling trip from the Oman Dive Centre, which was certainly quite impressive. Now that I am back online with this site, I hope to update it the near future with some pictures from Oman.
06. October 2009
Added an article on the vegetation on the coastal white sands of the Gulf coast in the UAE, a highly endangered habitat type with a unique flora and rich fauna. See the Ecology section.
01. October 2009
Added an article on the conservation of the endemic Dragon's blood tree (Dracaena cinnabari) on Socotra Island (Yemen), based partly on a trip I undertook to the island in December 2008. This article was written in collaboration with Bruno Mies, a person with a long-standing knowledge of the island. See the Ecology section.
25. September 2009
Added more images of plants from Arabia, including Blepharis ciliaris, Gynandriris sisyrinchium, Malcolmia grandiflora, M. pygmaea and a number of others, and a sixth page of Arabian plant thumbnails.
21. September 2009
Added some new bird photographs last night, mainly from the Jahra Pools Reserve (Kuwait) that were taken during September. Also added a species list for "other creatures".
19. September 2009
After a long, and at times painful birth, this website is launched!
I'm now in the process of packing up in Kuwait, after spending exactly 4 years working at the Kuwait Institute for Scientific Research (KISR), where I had a very interesting time. It was not an easy decision to move again, especially as I thoroughly enjoyed working on KISR's new strategy for biodiversity management. The plan is to leave at the end of October, spend a few weeks in Europe, before travelling to Muscat, Oman, to take up my new position as Associate Professor at Sultan Qaboos University.
Oman is a beautiful country with a wide variety of different landscapes, and we are looking forward to arriving there.
So having finally got this website up and running, there are unlikely to be any significant updates for a about 2 months, until we are firmly installed in Muscat.